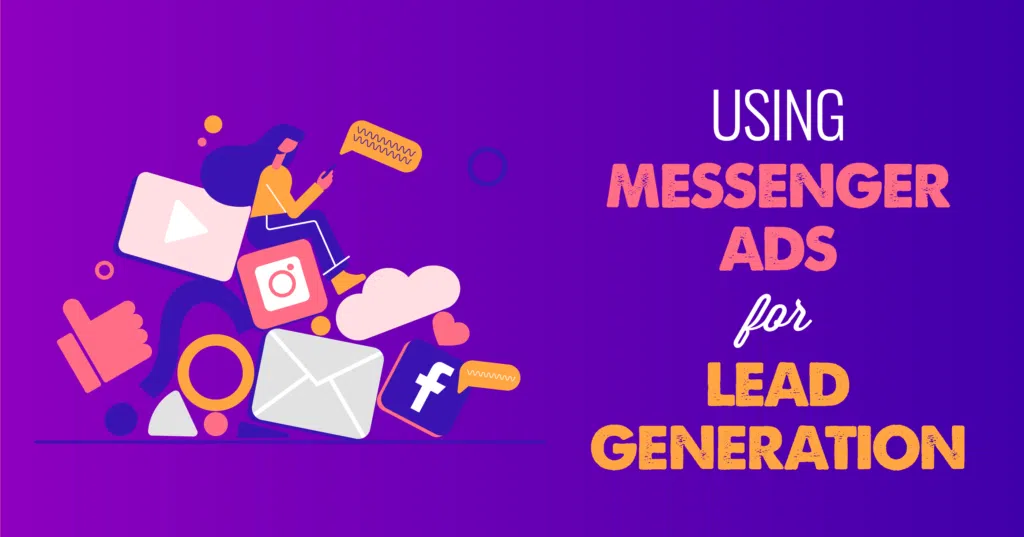 How to Get More Contractor Leads With Facebook Messenger
Our clients are busy working onsite, meeting with clients, and building their businesses. They don't have hours to sacrifice behind a desk, collecting customer data, or posting on social media. But just like any other business, they need a consistent flow of quality leads to stay alive.
Enter Facebook Messenger. Between Facebook's unrivaled targeting options and the immense growth of messaging apps, Messenger is one of the best ways to generate high-quality leads. Sure, it might take some time to set up Messenger to collect lead information, but the effort is well worth it. And when you combine Facebook Ads and Messenger, that's when the magic happens.
Lead generation is a key ingredient to any successful digital marketing strategy—and Messenger can be one of the most valuable assets in your marketing toolbox. Here's how to fuel lead generation and grow your business with Messenger.
How Does Facebook Messenger Generate Leads?
Two words: Messenger ads. They're not a specific ad type, meaning you won't be able to select "Messenger ads" when you're setting up your next Facebook campaign. Instead, they're an ad destination—an endpoint where you direct leads who engage with your ads—similar to your website.
Why should I use Facebook Messenger when I'm already running Facebook Ads?, you're thinking. It's simple: If you're already using Facebook Ads to generate leads, Messenger ads can be the finishing touch to convert your target audience from prospects to leads.
Think of Messenger ads as a one-click method to start conversations with potential leads. You can use them to generate leads, connect with your customers, and offer customer support. Instead of directing someone to the contact page on your website, you can start a conversation directly through Facebook Messenger. 
The best part? Facebook serves Messenger ads to homeowners who are more likely to start a conversation with your business in Messenger. Once they start a conversation, you'll have a valuable opportunity to answer their questions, offer more information, and move them to the next stage of the sales funnel.
How to Run Messenger Ads With Boosted Posts
If you're looking to start more conversations with leads, you can boost existing Facebook posts from your business page to create ads that open Messenger conversations. Here's how.
Choose the Facebook post you'd like to boost and click the

Boost Post

button.

Under the

Goal

section, click

Change

, then select

Get more messages

. Then, hit

Save

.

Choose the audience you'd like to target or click

Create New Audience

. This way, you'll be able to laser-target your audience based on their demographic information, interests, and more.

Select your duration schedule, budget, and payment method.

Click

Boost Post Now

to run your ad.
How to Set Up Messenger Ads in Ads Manager
If you're running a Facebook Ads campaign, you can also create Messenger ads through Ads Manager. Messenger ads work with three objectives: Messages, Traffic, and Conversions. Here's how to set up Facebook Ads with the Messages objective.
Go to Ads Manager, click

Create

, and choose the Messages objective.

Name your campaign, set your budget, and click

Next

.

Under

Ad Type

, select

Click to Message

. 

Under the

Messaging Apps

section, click

Messenger

. 

Choose your Audience, Placements, Cost Controls, and ad format to complete your ad setup.
While you're setting up your campaign, you'll also create the welcome experience that leads see in Messenger after they click your ad.
Under Messages Template, choose

Create New

.

Select

Generate Leads

to collect information in Messenger from people interested in your business using a question and answer flow.

Click

+ Create

to start creating your flow. Choose

Save and Finish

when you're done.

Finish editing your ad. Then, click

Confirm

.
Using Messenger Ads for Lead Generation: Best Practices
Congratulations! You're ready to run Messenger ads. Of course, driving leads from Messenger isn't as easy as setting up your ad campaign and hoping for the best. You'll need to optimize your ads, engage with customers, and give them a standout experience to successfully guide them to the next stage of the sales funnel.
Sounds simple enough, right? Here's how to make the most of your Messenger ads.
Make sure users understand what they're clicking.

Because Messenger ads look like run-of-the-mill Facebook Ads, it's easy for users to click on ads expecting a landing page to pop up. So, when Facebook Messenger opens and they're not expecting it, it could hurt your conversions.

Make sure you're letting leads know what to expect with a call to action like Start a conversation or Ask us anything.

Then, take it a step further by clarifying in the ad that they're clicking through to Messenger.

Don't forget about remarketing.

What about the leads you've already captured? If you're

ignoring leads who aren't ready to buy

, you're leaving money on the table.

Messenger ads offer an opportunity to find out what questions or concerns they might have about hiring you.

This way, you can clarify things for them, offer more information, and show them that you're the best choice for the job.

Ask the right questions.

When leads click on your ad, they'll see your welcome message in Messenger.

Here, your main goal is to ask a question that sparks a sales conversation.

Unlike a Twitter poll, which can be solely entertaining, your questions should help customers express their pain points so you can present the perfect solution (your services). For example, if you're a

home remodeler

, you might ask "What's the #1 thing that could change your current home into your dream home?"

Use Messenger ads for Traffic and Messages objectives.

Just getting started with Facebook Ads? Skip the Conversions objective. Conversions are the end goal of every ad campaign, but if you don't have enough conversions, Facebook won't have enough data to optimize your ads. In other words, Facebook won't serve your ads to enough people to drive real results.
Amplify Your Lead Generation Strategy With Messenger
When done right, Messenger can help you build confidence and establish trust with your target audience. By starting conversations at the top of the sales funnel, you'll have a valuable opportunity to pre-qualify your leads, improve lead quality, and maximize your conversion rate.
Ready to transform your lead generation strategy with Messenger? We're here to answer any questions you have about setting up Messenger ads, building your next ad campaign, or tracking your results. Contact us today to upgrade your Facebook Ads strategy.