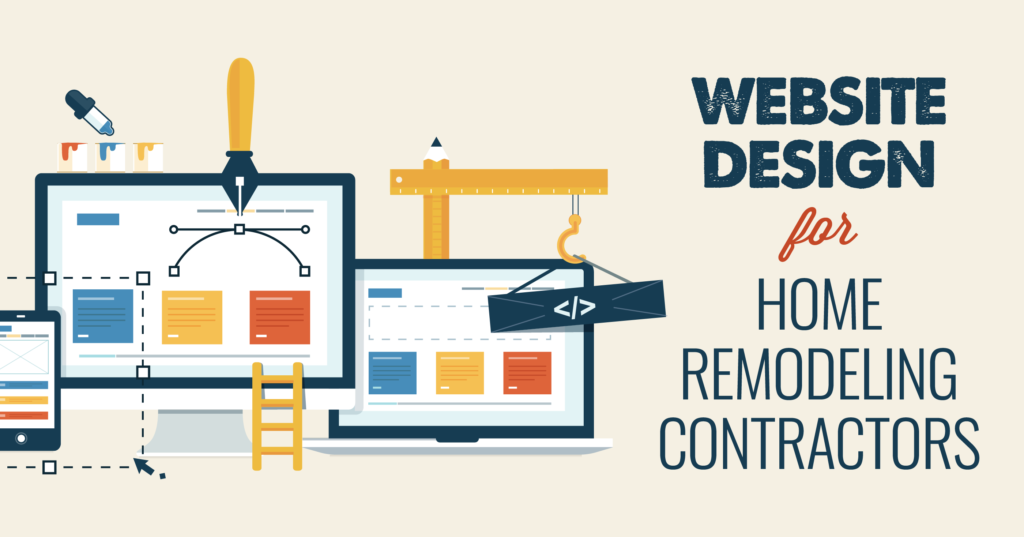 How to Build a Better Website: A Step-by-Step Guide for Home Remodelers
Switching from drywall to design might feel intimidating, but an outdated website can be your marketing kryptonite. Why? Because the average customer forms an impression of your business in less than two-tenths of a second. Based on that initial impression, they'll either hire you or move on to the competition. Your website is the most valuable asset in your marketing toolbox, but if it's not working for you, it's working against you.
Even though it might seem like updating your website is an inconvenience, it's well worth the time and effort. Our clients tell us that simple updates—like mobile optimization and SEO—have helped them
land more leads
, close more sales, and boost their bottom line.
But how do you know when it's the right time for a website rehaul? And how can you pull off a major website renovation during the busy season? Whether you're making some minor tweaks or completely reinventing your website, here's how to streamline the process.
---
1. Audit Your Current Website
Think of your website as your #1 sales rep. It works for you 24 hours a day, seven days a week, 365 days a year. It's what people see when they learn about your business—and it's what they use to judge your credibility. When was the last time you updated it?
If you haven't refreshed your website in the past year, it's time to audit your current website to identify areas for improvement. Sometimes, building a better website might be as simple as installing a new WordPress template. Meanwhile, if you notice some major issues, you might need to partner with an experienced web developer to get the job done right.
So, how can you tell when your website needs a complete rehaul? Here are some red flags.
---
2. Build a Strong Foundation
Just like building a home or renovating a kitchen, you need to have the right foundations in place from the start. Your home remodeling website is no different.
Before you dive into your website rehaul, focus on the basics. Your goal is to create a user-friendly website that seamlessly guides leads through their customer journey. You want to differentiate your home remodeling company from the competition, tell your brand story, and show prospects why you're worth hiring.
Ready to bring your web design to life? Here's how to build a web design that aligns with your business needs and sales goals.
Think about your layout.

Take a look at your current website. Are you missing anything on your Home page? Which blocks would make it easier for visitors to navigate your website? What do you need to display to get your message across? Plan out your website header, footer, and sidebar so you can start creating the foundation for your web design.

Make sure your design is responsive.

How does your website respond on mobile devices? Whether you're visiting your website on a mobile device, tablet, or desktop computer, you should be able to navigate it with ease. For the best results, keep mobile in mind. Once you've sketched your layout, think about how each block will break down on mobile.

Leave room for white space.

Your layout needs breathing room.

Instead of cluttering your website with text, widgets, and links, leave some empty space. It makes your website more professional and easier to navigate. At the same time, it forces you to consider the most important things to highlight and the message you want to send.

Sketch your design ideas.

Now that you have a general idea of your layout, it's time to start sketching some ideas. And there's good news: You don't need amazing artistic skills to bring your vision to life.

As long as you're putting pen to paper before you start working on the backend, you're on the right path.
---
3. Put Your Plan Into Action
You know that you need a website revamp. You've even sketched out your layout, down to the smallest details you want to change. But before you can start making changes, life gets in the way, so you push it to next season, and the season after that, and so on.
Sure, reinventing your website might not be #1 on your priority list, but you need to put your plan into action if you want to drive results. Even if your hands are full with renovation jobs, here's how to start your website rehaul.
Partner with a professional web developer.

Whether you're busy running your business or you are new to web design, partnering with an experienced web development team can make all the difference. A web developer can build a website tailored to your unique business needs and goals. When your visitors click onto an intuitive site that showcases your expertise, you'll

build trust in your brand

and form a strong first impression.

Don't be afraid to update during the busy season.

The slow season can be a great time to plan for your new website, but you don't have to wait until the busy season ends to get the ball rolling. If your schedule allows, run toward the fire and rehaul your website during the busy season.

A beautifully designed, professional new website can help you get noticed and keep your calendar full.

Plus, you'll get ahead of any competitors waiting for the slow season to revamp.
---
Drive Conversions With Professional Web Design
Instead of driving leads straight to the competition, build a better website that answers your visitors' questions and keeps your home remodeling company top-of-mind.
At Company 119, we build websites that are designed to convert. We're dedicated to supporting and serving your home remodeling business as you work toward your long-term business goals—and that starts with a website tailored to your company's unique needs. 
Whether you're building a website from scratch or optimizing your current website, don't hesitate to reach out to our team with any questions about website development.