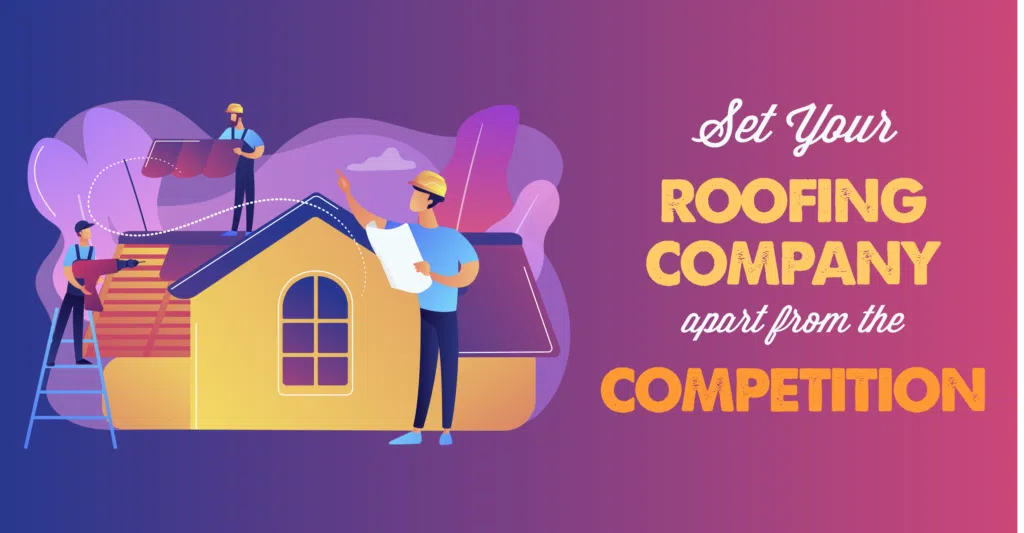 Customer Insights: How Does a Homeowner Decide Between Two Roofers?
From waterproof roof coatings to full-blown roof replacements, homeowners face a long list of worries and concerns when hiring a roofer. How much will the job cost? How long will it take? Is a new roof really necessary? And, of course, there's the biggest question of all: How do I hire the right contractor?
According to a recent survey, nearly half (48 percent) of homeowners wouldn't hire the same contractor for a future project. Home improvement doesn't come cheap—and homeowners want to get the job done right the first time so they don't have to flush more money down the drain later on.
So, how can you show homeowners that you're the best choice for the job? Here are the factors homeowners consider when choosing between two roofing contractors—and how to make sure you come out on top every time.
Roofing Company Qualifications
Whether they're dealing with a leak, hail damage, or missing shingles, most homeowners start their search for a roofing contractor online. In fact, 97 percent of people learn more about local companies online than anywhere else. What does that mean for your business? Your website needs to show prospects why you're the best roofer for their needs.
In general, good roofers are:
Experienced

Insured

Licensed in the homeowner's area

Bonded

Willing to provide references or client testimonials

Willing to provide an estimate
To step out in front of the competition, you need to showcase your experience, licensure, insurance information, and customer testimonials on your website. Think of your website as the focal point of your marketing efforts. Your leads are going to check out your website before hiring you for their next job—and you need to earn their trust by giving them the answers they're looking for.
Make sure this information is easy to find so homeowners don't click the back button out of frustration. Then, top off your landing pages with a clear call to action encouraging your leads to schedule a consultation or request a quote.
Roofing Services
It's no secret that roofing services vary from contractor to contractor. If local homeowners are searching for a specific service, like weatherproofing, they're going to cross roofers who don't offer that service off the list. Sounds simple enough, right?
Meanwhile, some homeowners will search for roofers that offer multiple services, like gutter, siding, and window services. Ultimately, tackling roofing and gutters at the same time can help them save money in the long run since they won't have to schedule two separate appointments.
So, how can you win the appointment? Make sure your roofing services are listed on your website. Our clients see the best results when they create separate landing pages for every service they offer. This was the approach taken by Warren Roofing®, a commercial roofing contractor in Northeast Ohio. While their focus is on commercial clients rather than residential work, they invested in a website design that clearly conveys their services and what sets them apart from other roofing contractors. Added bonus: That website serves as the hub for their successful paid and organic search marketing.
If you're struggling to keep your contractors busy, take a step back and review your landing pages. Are you ending each page with a compelling CTA? Are they filled with industry jargon or do they speak directly to your target audience? Are you conveying your value proposition? If you need some inspiration, visit your biggest competitors' websites. If they're offering different services, consider tweaking your service catalog to keep a competitive edge.
Contractor Portfolio
After they've cleared your qualifications and confirmed you offer the right services, homeowners are going to check out your roofing portfolio. In addition to showcasing your work, your portfolio should also highlight the methods you use to solve challenges, the materials you use, and your overall process.
Here, a dynamic portfolio can be your secret weapon to convert leads into paying customers. If you're not doing it already, get into the habit of taking pictures before projects begin and after they end. Remember: Prospects judge your work based on the pictures in your portfolio, so make sure every picture is high quality, well lit, and in focus.
Want to take your portfolio to the next level? Hire a professional video production agency. Between "before and after" shots, drone overviews, and behind-the-scenes glimpses of projects, video opens the conversation between you and your prospects. It's a valuable opportunity to address their concerns, answer their questions, and build trust while they're still in the research stage. The best part? Most roofers aren't using video yet, so it's a surefire way to set yourself apart.
Contractor Reviews
The next step in the research stage? Reading reviews. In today's always-on digital age, your online reputation can directly impact your bottom line.
According to Dixa, 93 percent of consumers read online reviews before making a purchase. Customers not only want to see reviews on your roofing services, but they're also looking for the nitty-gritty details. They want to learn about the experiences and problems your clients had, how you've responded to negative reviews, and whether your roofing services really live up to their expectations.
How can you give prospects what they're looking for? It's simple: You need to make reviews part of your process. The good news is that building up your online review portfolio is easier than you might think. Most of the time, all you need to do is ask.
Of course, there are a few ways to maximize your online reviews. Take a step back and consider your post-appointment communications. Are you following up after each appointment? Are you thanking customers for choosing your business? If you're not sending a follow-up email/SMS message yet, it's time to start.
If you're already sending appointment follow-ups, add a link to your preferred online review platform—whether it's Yelp, Google Business, or Facebook. Always ask customers for their honest feedback, and always engage with your reviews. Remember: Negative reviews are inevitable (we're all human), but knowing the right way to respond can make or break a potential customer's decision to move forward with you.
Take a Different Approach From the Competition
At the end of the day, you need to constantly refine your marketing strategy to stay on top of the competition. If you're not tweaking your roofing portfolio, landing pages, and service catalog to give homeowners what they're looking for, you'll have a hard time keeping your appointment book full.
Not sure how to gain a competitive edge? We're here to help you run toward the fire with a knockout digital marketing strategy. Reach out to our team to grow your roofing business and win more leads.