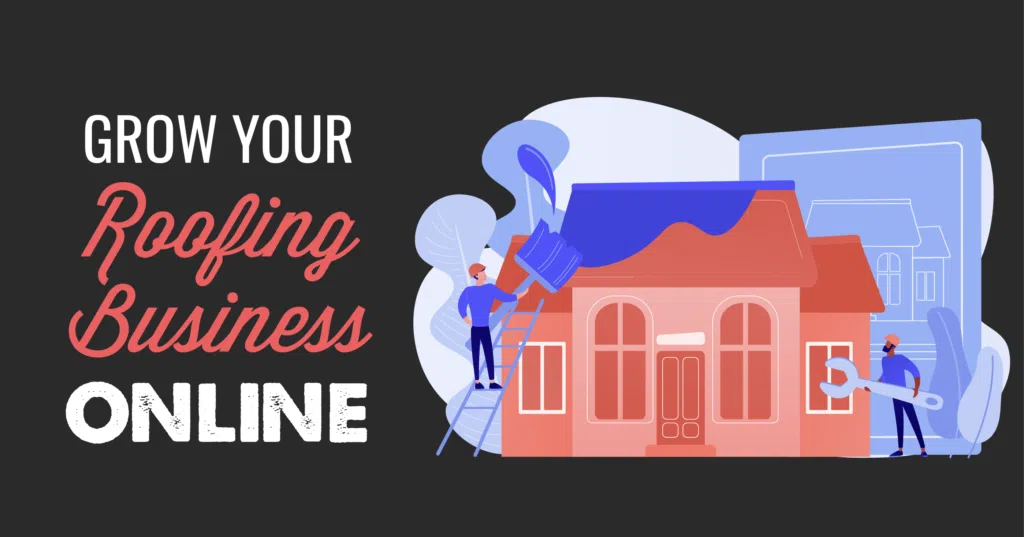 5 Powerful Digital Marketing Ideas for Roofers
It's time to say goodbye to the days of word-of-mouth, yellow pages, and cold calling. When homeowners need a reliable roofer to protect their home from the elements, they go online to find the best fit for the job.
What does that mean for your roofing business? Even if you're the best in the industry, you'll need a digital marketing strategy to stand out in a sea of contractors. 
That's right: The internet is the most effective marketing channel for roofers. With the right strategy, digital marketing can be an amazing tool to reach potential leads, ignite your conversion rate, and grow your roofing business with a steady stream of leads.
Ready to harness the power of digital marketing? Here are five must-have digital marketing strategies to take your business to new heights.
1. Search Engine Optimization
Today, 68 percent of online experiences start with a search engine, and 53 percent of web traffic comes from organic search. If you're not showing up on Google's first page of search results, you'll have a hard time keeping your roofing business alive.
Maybe you've dismissed SEO as just another acronym in the bowl of marketing alphabet soup, but it's so much more than that. It's the tool you need to rank higher and earn more relevant traffic from search engines. The best part? You don't need to spend a dime to start driving results.
Search engines are run by algorithms. These algorithms determine how search engines find your website, crawl your copy and metadata, and index all of that content. As a result, you'll need to broaden your marketing horizons with a few different SEO techniques to win Google's top spot.
How to do it: First things first—search engine optimization isn't a "one and done" strategy. You'll need to target relevant keywords, update your website, and master the art of link building to drive organic traffic. Then, you'll need to constantly refine your strategy to keep your website in the search results of quality leads who are likely to convert.
SEO can be a powerful digital marketing tool for any roofing contractor, but that doesn't mean you should copy the competition. You'll need to tailor your SEO strategy to your target audience, geographic location, and specific services to set your roofing business apart.
2. Social Media Marketing
Love it or hate it, social media is here to stay. According to the Pew Research Center, 7 in 10 people use social media each day. It's a major player in roofer marketing—and for good reason: Local homeowners are scrolling through Facebook, Instagram, and Twitter right now. When you run toward the fire with social media marketing, you'll meet them where they already are.
We've used social media marketing to help our clients build awareness, drive organic traffic, and book more jobs. When used correctly, social media can be an effective tool for lead generation, especially in the early stages of the marketing funnel. Think about it: Social media creates easy opportunities for prospects to express their interest in your roofing services without committing to a phone call or quote right off the bat.
Our clients tend to shy away from social media, especially when they're already overwhelmed with day-to-day operations. But there's good news: Social media only requires a few hours each week, so you don't have to work overtime to master your strategy.
How to do it: You already know that mainstream social media platforms (think: Facebook, Twitter, and Instagram) can help you connect with roofing leads, but how can you make these platforms work for you? To hit the ground running, you'll need to research your target audience. Figure out what platforms they're using, and use this data to guide your strategy.
Once you've identified what platforms to use, it's time to build your content calendar and establish a posting cadence. Short on ideas? Don't be afraid to reuse, recycle, and repurpose content from your blog. Just make sure your social media posts are engaging, informative, and useful to your target audience.
3. Paid Advertising
Whether you're a seasoned contractor or new to the industry, paid ads can be your marketing MVP. When a local homeowner wants to replace their roof or fix broken shingles, they're going to turn to Google. You want to stand out from the crowd so you can be there when they need you.
We know what you're thinking: Why should I pay for clicks when I can drive traffic for free with SEO? It's simple: Paid search can open up new doors for your roofing company. And if your SEO efforts haven't kicked in quite yet, paid search can help you grow your business with a steady stream of leads.
And yes, people do click on ads. In fact, one-third of people click on paid ads when they directly answer their search query. Even if you don't score the click, paid search ads can boost brand awareness by as much as 80 percent, according to Google.
The right PPC strategy can be a game-changer for roofers—and Warren Roofing®, a commercial roofing contractor in Cleveland, is a prime example. Warren Roofing® wanted to convey their distinct brand voice across their digital marketing strategy, from social media to paid search ads. 
To kickstart a successful paid search strategy, we incorporated highly relevant and compelling ad graphics and copy to target commercial roofing clients. With a combination of paid and search marketing, Warren Roofing® saw dramatic improvements in their conversions, web traffic, and phone calls.
How to do it: Ready to dip your toes into the world of PPC? To get started, check out our guide to paid search for contractors. There's a lot of building blocks required to build a successful paid search foundation, and you'll need to target leads throughout different stages of the sales funnel to drive conversions.
Even if you need leads now, you'll need to dedicate some time, money, and resources to refine your PPC strategy. We've seen our clients level up their paid ads with simple adjustments to ad copy, visual creatives, and targeting options. Sometimes, even simple tweaks can make a huge difference in your advertising ROI.
4. Video Marketing
You're an expert roofer with years of experience under your belt. You already know exactly what makes your business better than the competition, but how can you convey this to homeowners? For many roofing contractors, the answer is video marketing.
Video marketing can be a valuable asset in your digital marketing strategy—and the numbers back this up. According to video marketing statistics, 72 percent of customers would rather learn about products or services through video, and 84 percent of people say they've been convinced to buy products or services by watching brand videos.
Even if you already have a professional roofing website with hundreds of glowing reviews, video content can help you drive home your reputation. It establishes your authority, showing local homeowners that you're a master of your craft.
At the same time, video differentiates your brand from the competition. It's an amazing tool for driving engagement, helping you captivate your audience with click-worthy content. At the end of the day, a professional video portfolio might just be the extra push your leads need to request a quote.
How to do it: There's a time and place for DIY smartphone videos. For example, if you want to take a different approach to social media marketing, Facebook Live can set your brand apart. You can use Facebook Live streams to answer commonly asked questions and give followers a behind-the-scenes glimpse into your process.
If you really want to upgrade your brand, high-quality video content is a must-have. Your main goal is to tell your brand story, highlight your roofing expertise, and show prospects why you're worth hiring. If you're not sure where to start, consider partnering with an experienced video production agency to grow your business.
5. Email Marketing
Any experienced roofer knows that silent phones and idle trucks mean upset contractors and high overhead. If you're looking to attract new leads and retain your current customers, email marketing can help you keep your appointment book full.
If you're already using email marketing to promote your roofing services, you're on the right path. But you shouldn't just use email to boost sales. You can also use it to build relationships with current customers, reach out to potential customers, and recapture lost leads. 
When you play your cards right with email marketing, you'll see a major payoff. It's one of the most cost-effective and conversion-rich forms of digital marketing today. For every $1 you spend on email marketing, you can expect an average return of $42. Of course, you'll need to break through the digital noise with persuasive messaging to drive results.
How to do it: You'll need to consider a few things to develop a successful email marketing campaign. Most importantly, your emails should be responsive on both computers and mobile phones. They should be CAN-SPAM compliant, with irresistible calls to action to drive leads.
It might be tempting to send an email blast to your entire database, but it's best to start with smaller audience segments. Try breaking up your database into a list of customers from the past year. This way, you can target current email addresses to reduce your bounce rate.
To win at email marketing, you'll need to send the right messages to the right people at the right time. For example, during shoulder season, try sending an email with a discounted roof inspection offer to customers within the last two years. Or, when someone signs up for your newsletter, send an email with a 10 percent discount off roofing services.
Take a Different Approach to Roofer Marketing
We live in a digital world, but that doesn't mean you have to drain your marketing budget to grow your roofing business. Even if you run a small company with a limited budget, you still have plenty of marketing opportunities available.
The secret to successful digital marketing? There's no one-size-fits-all approach to marketing, and you need a strategy that works for you. Contact us today to develop a strategy tailored to your roofing business.